Personalized "Fire-scaping" Plans?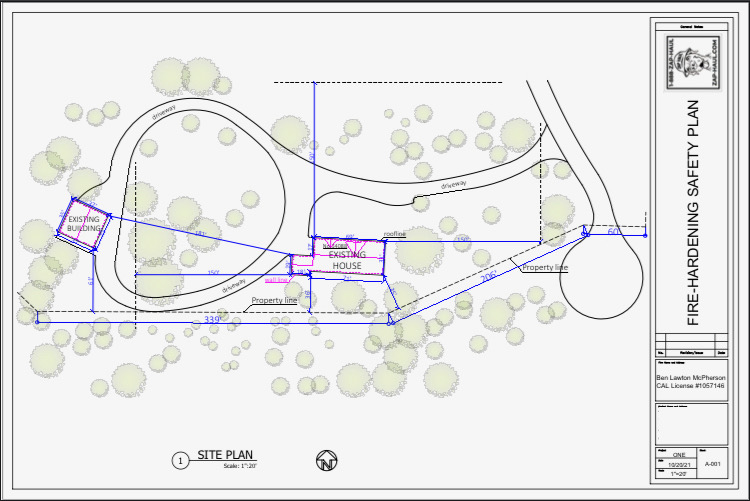 OVERVIEW
In creating customized landscape, property, and structure protection "fire-scaping" plans, Ben is now synthesizing training and experience from multiple disciplines acquired over many years, including: landscape design, drafting, fire-safety, arborculture, timber operations, and of course rural property maintenance and improvement! Each plan will be personalized for specific site conditions in accordance with owner preferences and Cal Fire "Home Hardening" guidelines and home-owner's insurance requirements.
TRAINING
Ben acquired a drafting certificate from Sierra College; trained in landscape design and landscape architecture at Cabrillo College and U.C. Berkeley Extension; received a Defensible Space Advisor Certificate from the Fire Safe Council of Nevada County; completed Licensed Timber Operator coursework led by the California Department of Forestry and Fire Protection; completed Entry-Level Tree Worker training with Tree Climber's International; and recently received certificates for Basic Arborist and Line Clearance Arborist from ACRT.
EXPERIENCE
Ben has over 5-years on-the-job experience helping Nevada and Placer County property owners prepare for fire season with tree trimming; brush removal; landscape and "fire-scaping" rock installation; ember screen installation; chimney-roof-gutter cleaning, maintenance, and screen installation; fire-break clearing; fire-fuel reduction; driveway repair; parking and shed pad creation; landscape grading and drainage; fence-gate-deck-shed-outbuilding maintenance and repair; et cetera.
SERVICES
Ben is now offering personalized consultation services with, or without, the creation of a graphic "fire-scaping" site plan drawing–depending on project budget and owner preferences. Costs vary from $199-$499 for fire-scaping plans* depending on complexity and scope of work (acreage, number of accessory structures, number of drawing sheets required, etc. Additional planting plans and or hardscaping plans are available by separate arrangement). Depending on the scope of work required for a given job site, Ben and his small crew may be available to implement some or all of the measures specified on the plan. Call or text Ben at 530-428-5530 for more information or to schedule a site visit.
Non-hazard tree trimming from $69 (includes 1-hour on site and 15-minutes drive time).
Chipping from $99 includes chipper, 15-minutes drive time (delivery), fuel, and first hour of chipping. Additional labor at $45 per person.
Tractor-assisted brush removal and log skidding from $99, includes 15-minutes drive time (delivery), fuel, and first hour of equipment. Additional time at $85/hour in 15-minute increments.
Tree and wood waste removal also available.
Specializing in wildfire

safety

.
Certified Defensible Space Advisor
10% Senior (62+), disabled discount.
Great value; local, friendly, socially-conscious.
Covid-19 aware practices.
Call or text Ben McPherson at 530-428-5530 for information.
California contractor license #1057146, bonded & insured.
Work practices pursuant to ANSI-Z133 safety guidelines.
Current training includes:

ACRT Basic Arborist (September 2021).
ACRT Line Clearance Arborist Certification (September 2021).
Tree Climber's International Entry-Level Tree Workers (June 2021).
* Not all services available in all areas.